Batteries
A battery is a source of electric power consisting of one or more electrochemical cells with external connections for powering electrical devices such as flashlights, mobile phones, and electric cars. When a battery is supplying electric power, its positive terminal is the cathode and its negative terminal is the anode. The terminal marked negative is the source of electrons that will flow through an external electric circuit to the positive terminal. When a battery is connected to an external electric load, a redox reaction converts high-energy reactants to lower-energy products, and the free-energy difference is delivered to the external circuit as electrical energy. Historically the term "battery" specifically referred to a device composed of multiple cells, however the usage has evolved to include devices composed of a single cell.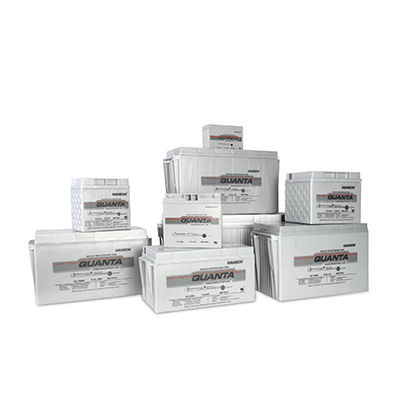 Amaron quanta smf batteries
AMARON QUANTA is the industrial segment SMF battery for UPS applications. This battery is built to perform. In short, the lifeline to your UPS applications. AMARON QUANTA is a product of fail-safe, fool-proof battery technology, produced and tested in our premier manufacturing facility. Built to the highest technical competence in its class, the AMARON QUANTA is an example of Amara Raja's commitment to bringing the best of technology to your table. It features several firsts for the battery industry like the unique Radgrid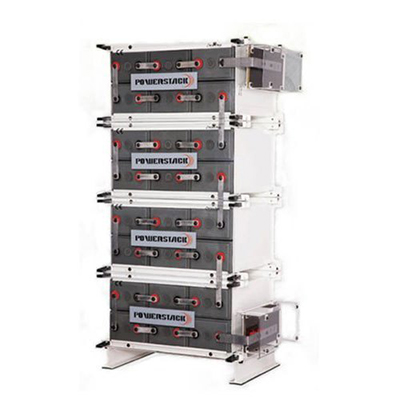 Amara raja 2 volt power stack batteries
Powerstack is a high performance battery designed to meet the demands of a wide range of industrial applications. The Powerstack range is modular in structure and is capable of accommodating a wide spectrum of capacities depending on the application.Innovative Plate design offers low internal resistance and superior high rate discharge performance.Advanced AGM separator offering a longer service life and enhanced high rate discharge performance,100% charged when shipped from factory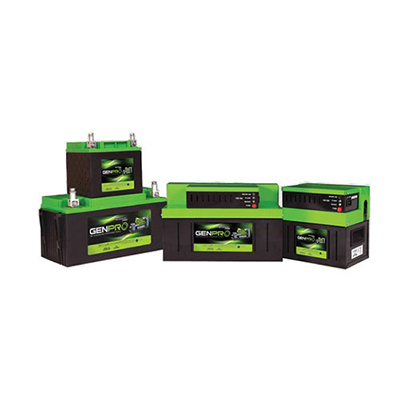 Amaron DG batteries
Genpro is the best in class Battery solution from Amara Raja Batteries, offers a perfect solution assuring customers peace of mind for their critical needs of DG Cranking Battery.No periodic topping up and specific gravity checking,no acid spillage,Light weight as compared to conventional battery,Easy to handle with pre-assembled battery & charger.Excellent cranking capability even at low temperatures ( - 18°C).Works in temp range of -18°C to 55°C,Lower power requirement for charging the batteries.No separate charging equipment required.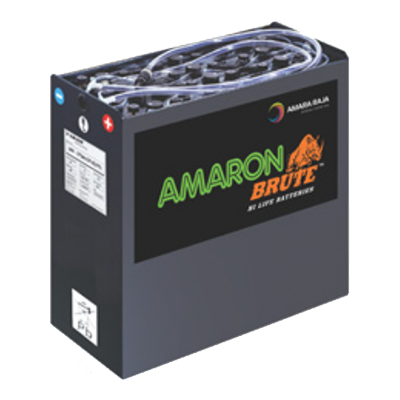 Amaron Brute hi life traction batteries
Amaron Sleek front terminal batteries are designed with True Front terminals and delivers optimal performance in high temperature conditions and deep cycle usage conditions. Manufactured in world's largest integrated MVRLA plant having state of the art manufacturing facilities, this range is designed to offer superior performance in all power backup requirements.Design Float life of 12+ years in accordance with Eurobat Classification of Long Life battery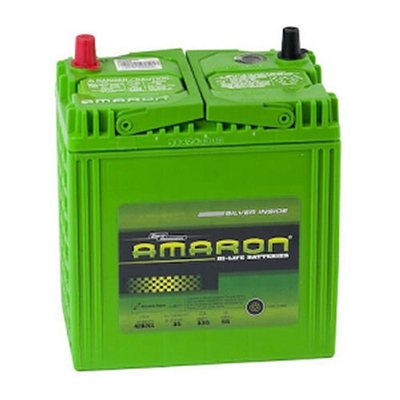 Amaron lithium Ion batteries
A lithium-ion battery or Li-ion battery is a type of rechargeable battery in which lithium ions move from the negative electrode through an electrolyte to the positive electrode during discharge, and back when charging. Li-ion batteries use an intercalated lithium compound as the material at the positive electrode and typically graphite at the negative electrode. Li-ion batteries have a high energy density, no memory effect (other than LFP cells)and low self-discharge. Cells can be manufactured to either prioritize energy or power density. They can however be a safety hazard since they contain flammable electrolytes, and if damaged or incorrectly charged can lead to explosions and fires.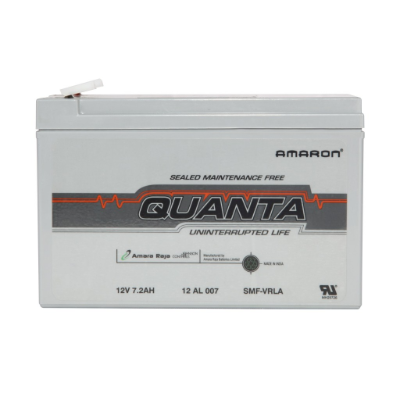 Amaron Quanta 12V 007 AH Inverter Battery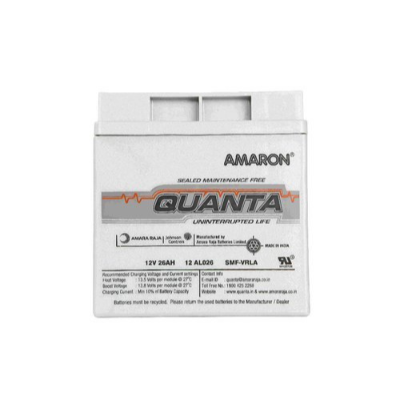 Amaron Quanta 12V 026 AH Inverter Battery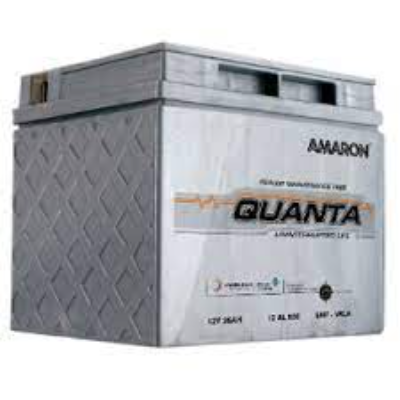 Amaron Quanta 12V 028 AH Inverter Battery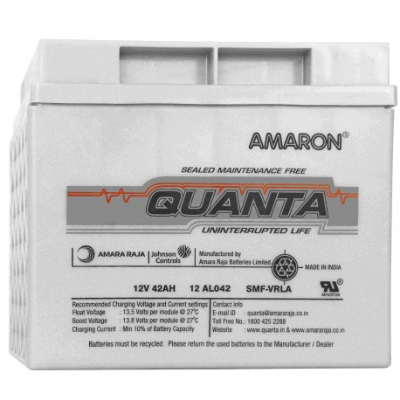 Amaron Quanta 12V 042 AH Inverter Battery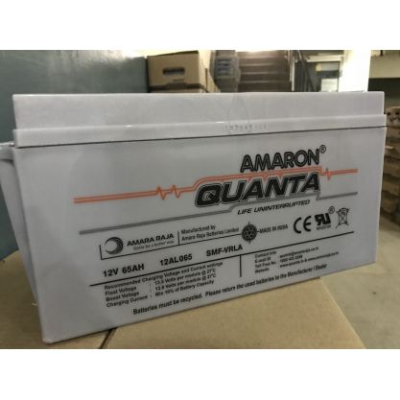 Amaron Quanta 12V 065 AH Inverter Battery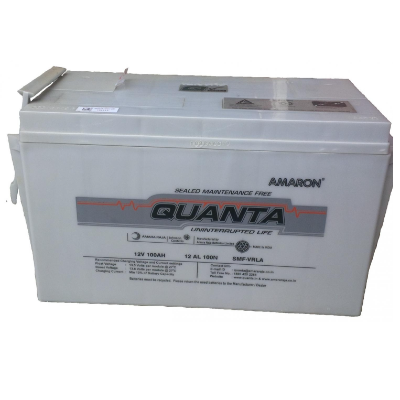 Amaron Quanta 12V 100 AH Inverter Battery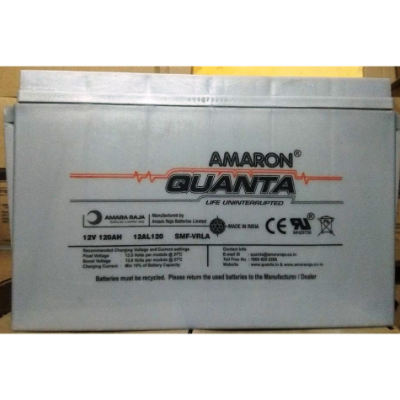 Amaron Quanta 12V 110 AH Inverter Battery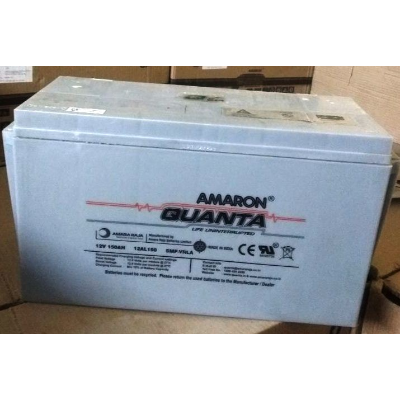 Amaron Quanta 12V 130 AH Inverter Battery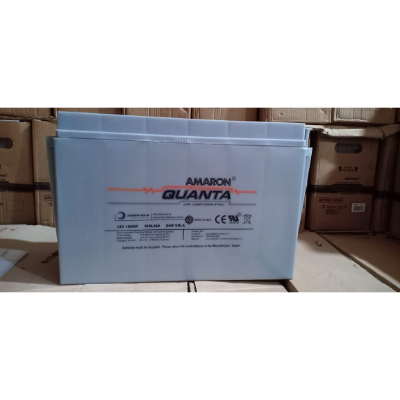 Amaron Quanta 12V 160 AH Inverter Battery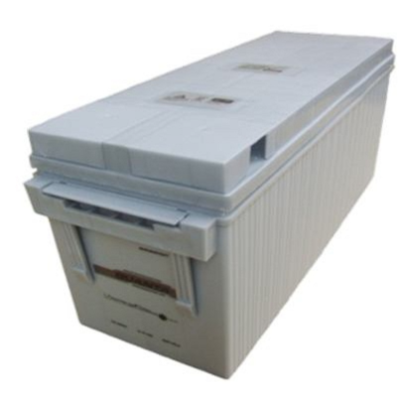 Amaron Quanta 12V 200 AH Inverter Battery