Why Amaron Quanta is the Optimal UPS Battery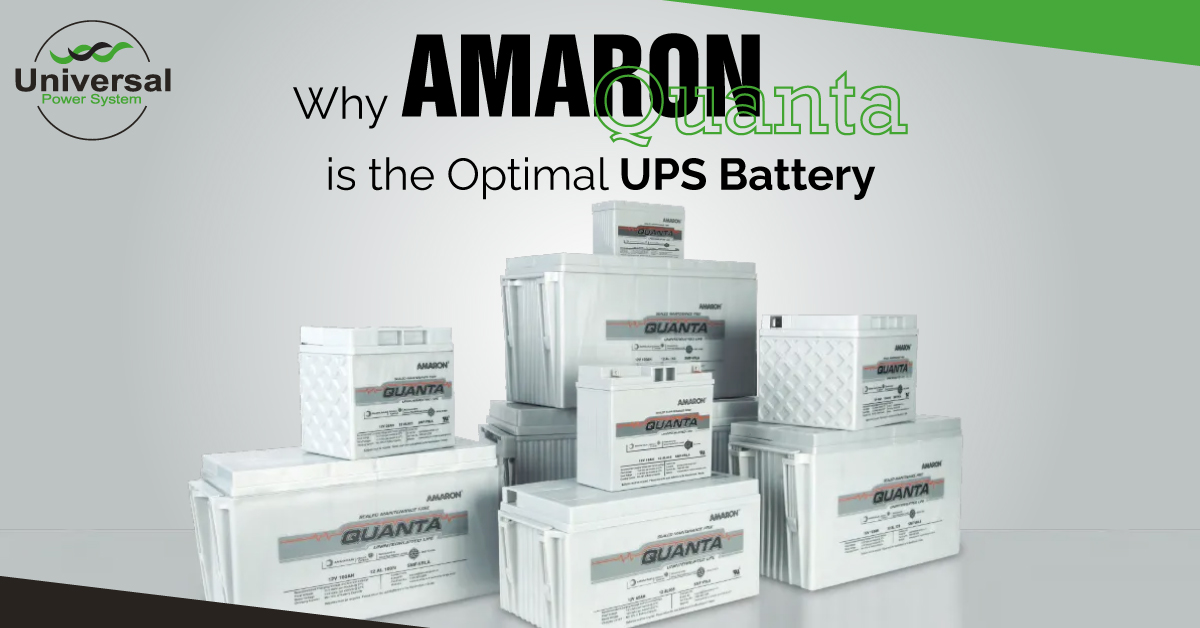 Having a reliable supply of Uninterruptible Power Supply (UPS) batteries is essential for many businesses and applications. To keep critical medical equipment running, keep a security system charged, or keep a factory online during power outages, uninterruptible power supply (UPS) batteries are a must. Amara Raja has spent years perfecting the Amaron Quanta, the industry standard in uninterruptible power supply (UPS) batteries.
The Amaron Quanta: Why Choose It?
The Amaron Quanta, a 12V VRLA lead-acid battery that uses AGM technology, is an excellent option for many reasons. The Amaron Quanta is the best UPS battery because. Let's analyze the advantages of the Amaron Quanta battery.
Reliability
UPS battery dependability is the most crucial feature. Believe that the battery will work properly when you need it. The ultimate goal of the design process behind Amaron Quanta was to ensure this would be the case by incorporating several novel features that would provide consistent, uninterrupted service that was always available. Amara Raja has made a name for itself as an industry leader by developing technologically innovative products with widespread market impact. The Amaron Quanta exemplifies this trait because it introduced cutting-edge technology to a sector that had been technologically stagnant for years, the automotive battery market.
Numerous Applications
With its high energy density and low self-discharge rate, the Amaron Quanta is an ideal battery for many applications where reliable power is essential. This includes uninterruptible power supply (UPS) configurations, fire alarm panels, elevators, closed circuit television (CCTV) systems, data centers, banks, factories, utilities, hospitals, laboratories, and even cloud service providers. The Amaron Quanta, a 12V VRLA lead-acid battery with cutting-edge AGM technology, has a rich history of successful use in many of these applications.
Eliminates the Need for Repairs
UPS battery upkeep is a significant factor to consider before making a purchase. In reality, the perfect battery would not require any upkeep and would always be ready to go when called upon. Thanks to its superior AGM technology, the Amaron Quanta is suitable for such an application. It also employs PPCP containers, which have such low permeability that they prevent water loss from occurring within the battery.
Powerful and Consistent
A battery for an uninterrupted power supply must have high performance and stable output. Thankfully, the amaron quanta battery is built to last forever. The welds between the battery cells make for a very low-resistance current path, making this battery ideal for high-current applications. Because of this, the battery should function normally and supply the necessary energy. The success of the battery can also be attributed to the design, which incorporates reinforced walls to increase resistance.
A very long life!
A UPS battery's longevity is another important feature, as it provides added assurance that it will work when needed. The Amaron Quanta has several features designed to extend its useful life, so it lives up to these standards. The revolutionary Radgrid profile allows for more significant discharge and less internal resistance. In addition, it has Instacharge, a proprietary paste technology that accepts charges quickly and efficiently. Additionally, Amaron Quanta is ideal for tropical climates due to its heavy-duty corrosion-resistant alloy. This battery ranks high in quality thanks to its ten-year design float life.
Prompt, Friendly, and Dependable Service
Amara Raja's unwavering commitment to the quality of its products is a significant selling point for those who value certainty in their purchases. An extensive company-owned service network staffed by engineers offers service and support before and after a sale, in addition to the state-of-the-art manufacturing facility and Battery Excellence Centre that guarantee only top-tier batteries are produced.
Compared to Rival Brands, Why Should I Choose the Amaron Quanta?
Even though many companies produce high-quality batteries, the battery industry has become complacent. You will be disappointed if you try to purchase this using Amaron Quanta. Our batteries' superior performance has been guaranteed by the many cutting-edge features included in this battery.
Ingested Glass Matrix (AGM)
A fiberglass mat between the cell plates holds the electrolyte in place. Because it never needs watering, this valve-regulated lead-acid technology requires very little upkeep.
Metallic Silver on the Inside
The difference lies in the interior silver. The SilvenX alloy is unique to Amaron batteries and has been patented. That's what gives it staying power and ensures its durability. Super lengthy.
Applications
Quanta is used by all of the top UPS battery backup manufacturers, including Universal Power System. Since its launch in July 2002, these UPS batteries have become one of India's most popular battery brands, with over 3,00,000 batteries used at over 10,000 customer sites.
When you buy Amaron Quanta batteries, you're getting dependable power that will last a long time. Get in touch with us today and find out how the Amaron Quanta can fulfill your battery requirements.